BOSTON (AP) — The NHL on Saturday shut down the Boston Bruins and Nashville Predators through Christmas, bringing to five the number of teams in COVID-19 limbo. Weekend games for the Canucks and Maple Leafs also were postponed as the league tries to control a spiraling outbreak in its locker rooms.
The NHL and its players association agreed to daily testing and other enhanced protocols to slow the spread of the coronavirus. They will take effect immediately and last at least through Jan. 1, with an evaluation no later than Jan. 7.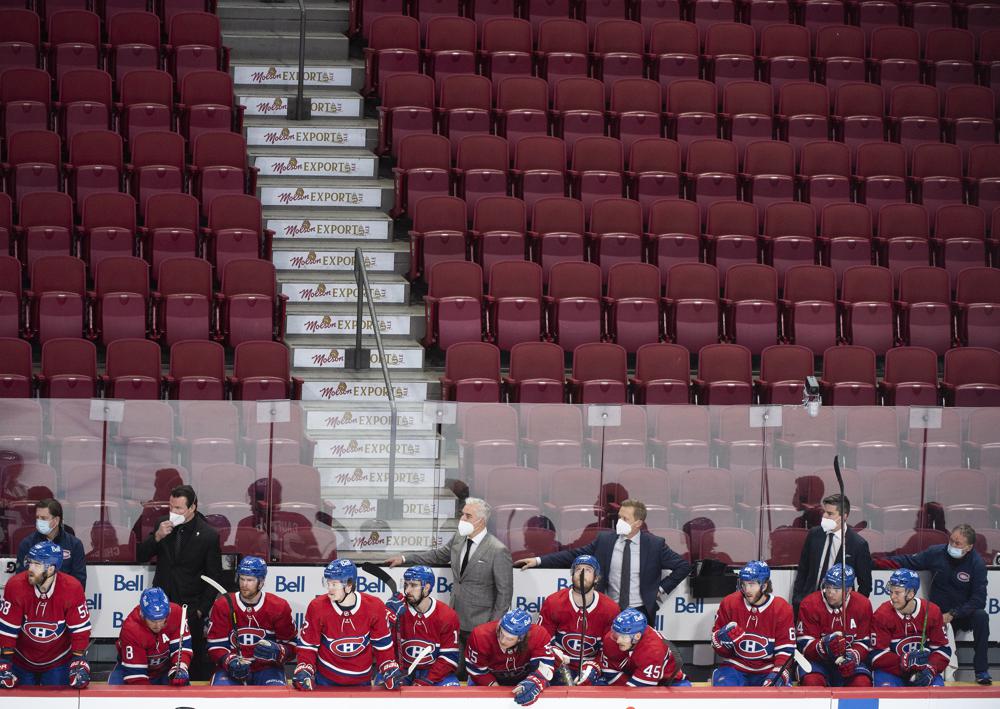 Montreal Canadiens players and coaching staff look on from the bench against a backdrop of empty seats during during second-period NHL hockey game action against the Philadelphia Flyers in Montreal, Thursday, Dec. 16, 2021. (Graham Hughes/The Canadian Press via AP)
"Given the increased number of positive cases in our league within the last two weeks, and changing societal realities with the new omicron COVID-19 variant, the NHLPA and NHL have collectively agreed that all Clubs shall be required to follow enhanced preventative and detection measures," the league said in a statement.
The Bruins and Predators join Calgary, Colorado and Florida, which already had been shut down through next week because of outbreaks. Saturday night's game between Toronto and Vancouver and Sunday's Arizona-Vancouver and Toronto-Seattle games were also postponed amid worsening conditions across North America due to the omicron variant of the coronavirus.
Bruins general manager Don Sweeney told reporters on Saturday night that the plan was still to get all the games in and have a full Stanley Cup Playoffs.
"It may take periods where we're in now, where we have to step back," he said. "But our intention is to play a full season and follow best practices. That will take adaptability."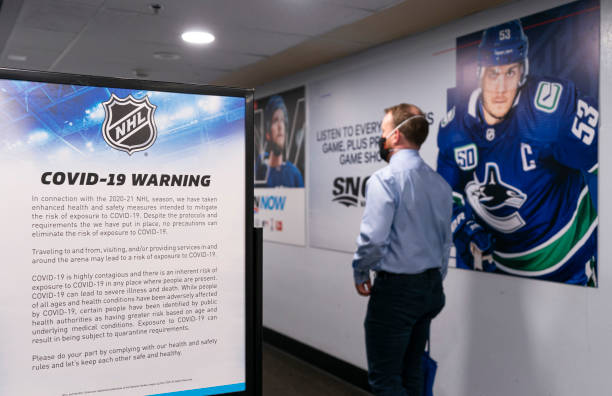 VANCOUVER, BC – APRIL 18: A man walks past a COVID-19 warning sign after entering Rogers Arena prior to NHL hockey action between the Vancouver Canucks and the Toronto Maple Leafs on April 17, 2021 in Vancouver, Canada. (Photo by Rich Lam/Getty Images)
Approximately 70 players — 10% of the league — are in the NHL's COVID-19 protocol and the number of games postponed this season has climbed past 20. Several Canadian provinces are now or will soon limit attendance at large events like NHL games to 50% of capacity.
Besides the daily testing for players and coaches, the league said "additional pregame testing may be implemented, on a case-by-case basis, when a COVID outbreak occurs within a team."